The Guarujá Granitos has a physical structure of 10,000 m² and latest machines, has trained professionals and with high quality granites, one suited to undertake any work in the field of marble and granite company. It is a business organization that strives for quality customer service and the needs for each of them, always aiming to make the best possible service.

The Guarujá Granitos provides topnotch products extracted from the best quarries and ensures security that his works deserve.

Seeks to innovate every day and works with a diverse range of materials, thus offering complete reliability and credibility of their products and services. Have an infrastructure capable of meeting the most demanding customers and this ensures timeliness and quality in its deliveries.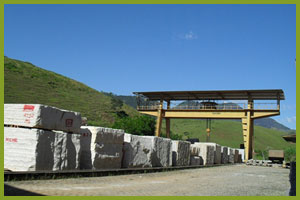 Be a reference to customer service, regardless of the (national or international) market, serving the consumer products market with rocks and / or quality services at a price that allows generating welfare of customers, employees, the Authority and the local community . Being Profitable about to satisfactorily compensate its partners, internal staff and other stakeholders.
Become a world reference in the stone sector, in the segments of the construction and sale of plates, seeking excellence in the services performed and generating large profitable results to everyone involved with the institution.
Transparent and effective communication

;

Innovate seeking professional updates

;

Honoring ethical and financial commitments

;

Keep enjoyable work environment through positive

;

Social and environmental responsibility

;

Professional ethics through the moral character of labor relations

.